BEMAC and Saikat Bhattacharya present Ustad Shahid Parvez Khan live in Brisbane
23/02/2019 @ 6:30 pm

-

9:30 pm
BEMAC and Saikat Bhattacharya, invite you to a once in a lifetime opportunity to witness the world's number one sitar player Ustad Shahid Parvez Khan accompanied on tabla by the great Shri Hindole Majumdar.
Taking place at the Queensland Multicultural Centre (QMC) in Kangaroo Point, as part of BrisAsia Festival 2019, this unique event will see these world-renowned Indian Classical music artists performing live in Brisbane for the first time ever.
Tickets are $50 with the option of purchasing a premier ticket for $90, which includes front-row seating and a meet and greet opportunity with these two musicians, who are regarded as the greatest living Indian Classical music performers today.
Doors open at 6pm with the concert starting at 6.30pm on Saturday, 23 February.
Ustad Shahid Parvez Khan
The descendant of six generations of sitarists, Ustad Shahid Parvez Khan is one of the leading exponents of the Etawah Gharana, a musical tradition or "family" committed to this most famous of Indian instruments.
Few instrumentalists have attained as much of love and admiration from the global music loving fraternity as Ustad Shahid Parvez. He has been the recipient of numerous prestigious awards including the Government of India's 'Padma Shri' and the 'Sangeet Natak Academy Award.' He has appeared at all major musical festivals in India and abroad including the Festival of India held in the US, Europe, USSR, Canada, Middle East, Africa and Australia.
With numerous audio and video recordings, a substantial global following online, and distinguished career as a performing artist in India and around the world, he is widely recognized as one of the greatest sitar-players the world has ever seen.
For Ustad Shahid Parvez Khan, the sitar and self are identical entities, and music is not just a discipline but life itself – vibrating, pulsating and full of colour. The power of his music is immediately encountered in the highly charged sound he conjures from his sitar and the sparkling intelligence, which is the hallmark of his improvisatory music. By sheer precision and an astute artistic sensibility he has made for himself a place in the limitless, infinite universe of Indian Classical Music.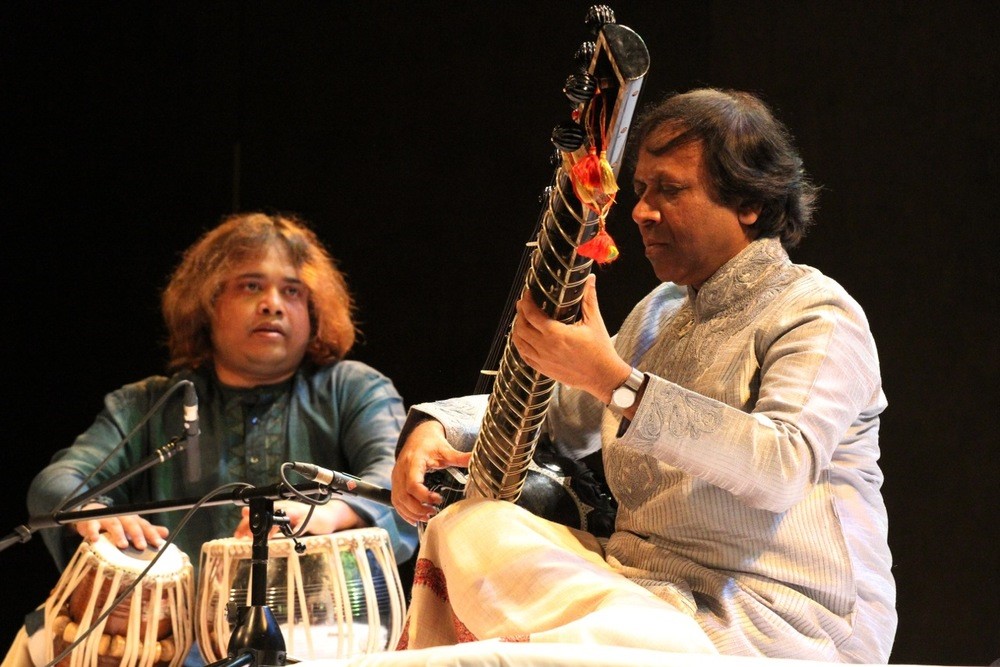 Shri Hindole Majumdar
Shri Hindole Majumdar occupies a commendable position amongst tabla players of his generation. Inspired by his maternal grandfather, the late Sri Chittaranjan Roy, and his mother, the late Sunanda Majumdar, a teacher by profession and Kathak dancer disciple of Pandit Ramgopal Mishra of the Jaipur Gharana, Hindole started learning tabla at the tender age of 5. In his very first performance at the age of 10, he completely enthralled the audience.
He received his first formal training from Shri Shibshankar Karmakar, a disciple of Ustad KaramatullahKhan, Farukkhabad Gharana and continues to receive training from the great tabla maestro Pandit SankhaChatterjee (of the Punjab and Farukkhabad Gharana) in a guru-shishya parampara.
He has also had the opportunity to learn South Indian Rhythm style from the Mridangam exponent Pandit S.Shekhar. Hindole now performs all over the globe accompanying various artists, and his work and experimentation is critically acclaimed by music enthusiasts all over the globe.